Course
Local Rules
Play may only commence from the 1st and 5th tees and then only if there is no delay to players already on the course (on the 1st tee players will filter with those leaving the 9th hole).
The Brook Course is a recognised Water Hazard (Rule 26) on all holes except for the 2nd, 4th, 11th and 13th, holes when it is a Lateral Water Hazard.
Natural paths are an integral part of the course (Def. C- Obstructions). The ball must be played, as it lies, or declared unplayable (Rule 28)
Out of bounds:- The bounds of the course are the walls, hedges, white stakes or lines on the extremities of the course (Rule 27-1).
Playing the 2nd and 11th, a ball lying on or over the road. Playing the 6th, a ball lying to the right of the wall from the front of the tee and including white stakes to the right of the 6th green. Playing the 7th, a ball beyond the blue markers, or left of the white markers. Playing the 3rd and 12th, to the right of white markers on the right of the road and the wall, white posts or lines to the rear of the green. Playing the 5th, to the right of the white markers. Playing the 9th and 18th, past the white stakes or line.
Immovable obstructions:- For the purposes of Rule 24-2 the following will be included as immovable obstructions:-
Immovable direction posts, immovable warning signs, posts for litter bins and ball cleaners, seats, warning bells, drain covers, man-made paths, staked trees and protective screens and sprinkler heads. In addition, if such an obstruction on or within two club-lengths of the putting green of the hole being played intervenes on the line of play between the ball and the hole, the player may obtain relief without penalty, as follows:- If the ball lies off the putting green, but not in a hazard, and is within two club lengths of the intervening obstruction, it may be lifted, cleaned and dropped at the nearest point of relief to where the ball lay, which (a) not nearer the hole, (b) avoids such intervention and (c) is not in a hazard or on a putting green. The original position of the ball must be marked before lifting. Penalty for breach: - Match Play-loss of hole; Stroke Play-two strokes. White stakes defining out of bounds must not be removed as these are boundaries. Stakes defining out of bounds having no significance to the hole being played shall be deemed immovable obstructions. Relief may then be taken under rule 24-2. For example, when playing the 4th hole the stakes that define the out of bounds for the 5th hole are immovable obstructions and relief can be taken.
Lifting and dropping without Penalty: - Stones can be removed from bunkers (Rule 24). Tractor marks and implement marks: - one club length nearest point of relief not nearer the hole (Rule 25-1b). (If in the rough then the ball must be dropped in the rough). When playing the 9th, and 18th if a ball lies within 6 inches or on the road, the road must be between the dropped ball and the green.When playing the 3rd and 12th hole a ball lying on the road may be dropped at the nearest point of relief, not nearer the hole.
Accidental Movement of a Ball on a Putting Green:- Rules 18-2, 18-3 and 20-1 are modified as follows:
When a player's ball lies on the putting green, there is no penalty if the ball or ball-marker is accidentally moved by the player, his partner, his opponent, or any of their caddies or equipment. The moved ball or ball-marker must be replaced as provided in Rules 18-2, 18-3 and 20-1.This Local Rule applies only when the player's ball or ball-marker lies on the putting green and any movement is accidental.
Note: If it is determined that a player's ball on the putting green was moved as a result of wind, water or some other natural cause such as the effects of gravity, the ball must be played as it lies from its new location. A ball-marker moved in such circumstances is replaced."
Temporary local rules: - Temporary local rules will be posted on the notice board.
NOTE. Glossop and District Golf Club cannot accept responsibility for any accidents and/or damage that may occur through the use of the golf course.
HEALTH AND SAFETY. All players should note: - The Greens' Staff have priority on the Golf Course, but will move aside as soon as it is possible to do so, to allow play to continue. All players should be familiar with the club's Health and Safety policy, which is available in the club house/Professional's shop and on the Website.

Click here to view a short video of the course
Pace of Play Policy - Rules of Golf - Rule 5.6b.
A round of golf is meant to be played at a prompt pace.
Your pace of play is likely to affect how long it will take other players to play their rounds, including both those in your group and those in following groups. You are encouraged to allow faster groups to play through.
Pace of Play Recommendations.
You should play at a prompt pace throughout the round, including the time taken to:
Prepare for and make each stroke,
Move from one place to another between strokes, and
Move to the next teeing area after completing a hole.
You should prepare in advance for your next stroke and be ready to play when it is your turn.
Playing Out of Turn to Help Pace of Play (Ready Golf).
In stroke play, play "ready golf" in a safe and responsible way.
In match play, you and your opponent may agree that one of you will play out of turn to save time
General Play
Leading matches have a responsibility to set the pace for the rest of the field. Make up ground on the match in front of you after playing a short hole.
On the Tee
Be ready to play without delay as soon as the match ahead have played their shots and are out of range. All members of the group to take a clear, careful line on wayward balls. If a wayward ball is clearly in trouble, play a provisional ball.
Looking for a Ball
Walk directly to your own wayward ball before assisting with other ball searches. If, during the search for a wayward ball, the match behind is seen to be waiting, then invite them to come through immediately. Maximum ball search is 3 minutes, after this the ball is lost and you must play the provisional ball. When called through, make sure you catch up with the match in front.
From the Fairway
Avoid continually changing club selection and keep practise swings to a minimum before playing your shot and no practice swings afterwards. Do not stand admiring your shot but walk briskly after the ball. Think ahead to where you can most conveniently place your trolley or bag for exit from the green to the next tee and take such clubs as are necessary to complete the hole. Take a clear, careful line on wayward balls and if a wayward ball is clearly in trouble, play a provisional.
On the Green
Judge the line of your putt at the same time as other player(s). You can elect to leave the pin in the hole when putting on the green. In medal play, if your putt finishes close to the hole, follow up and tap in (with permission). When the first player has putted out, he should collect the pin ready to put back, after the other players(s) have completed the hole. After putting, leave the green promptly and proceed to the next tee. Mark your card when you get to the next tee, whilst ensuring that you are ready to take your turn to tee off.
Discipline
Help and encourage other players who you judge to be unduly slow in their play, if they ignore your advice to improve their pace of play, then report them to a Club official. The Committee is empowered to penalise players who fail to achieve a prompt pace of play.
Course Committee 2021
Our 5759-yard golf course presents an enjoyable challenge for golfers of all abilities, affording great views from every hole, excellent greens and well conditioned fairways. Our course is a wonderful mixture of low lying parkland which gradually evolves into moorland as you slowly climb towards the magnificent Pennines.

Underestimate this course at your peril.
Take your time, keep your patience and you may crack our jewel of a golf course.
Hole 1 and 10
Par 3


Hole 1 - Waterfall -161 yd
A medium distance par 3 to start. Try and keep your tee shot under the hole for an uphill putt.

Hole 10 - Duke's Bridge - 184 yd
A strong par 3 that will test the best of golfers, with the equally demanding putting surface.
Hole 2 and 11
Par4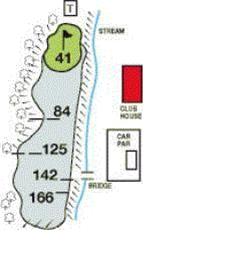 Hole 2 - Equator - 367 yd
A relatively wide driving hole with a fairway that bottlenecks on the approach to the green. The second shot tends to play longer than it looks.

Hole 11 - Pump House - 359 yd
Again an inviting driving hole with a stream on the right awaiting any pushed second shot.
Hole 3 an12
Par 3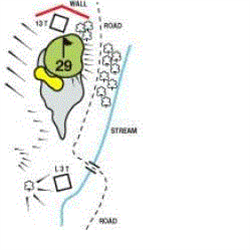 Hole 3 - Ditch - 151 yd
A short par 3 hole, but one that will demand all your skills on the undulating green.


Hole 12 - Dam - 165 yd
The dam behind the green was removed in 2016... but call us sentimental... we kept the name. The dam has gone, but this is more than made up for by the views up the stream
Hole 4 and 13
Par 4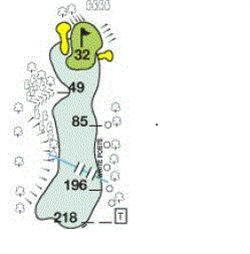 Hole 1- Meadow - 366 yd
A straight away par 4. The decision is whether to take on the water hazard running across the fairway. Two bunkers await the loose second shot.

Hole 13 - Burn - 386 yd
Another good drive is required here. Again be careful of the water hazard and the well protected green.
Hole 5
Par 4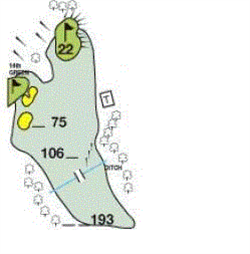 Hole 5 -Copse - 345 yd
A dog-leg right par 4. A tough hole where the drive needs to be down the left side. The narrow water hazard is in play off the tee. The green is guarded on the left side by a large oak tree,
Hole 6
Par 4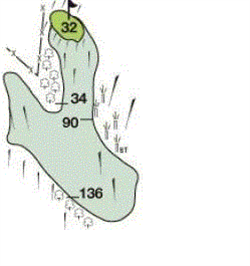 Hole 6 -Grouse - 306 yd
A 90° dogleg to the right. There is more room on the fairway than there looks from the tee.
A lovely short par 4.
Hole 7 and 16
Par 4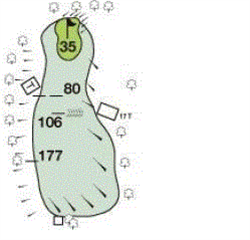 Hole 7 -Woodcock - 394 yd
From a spectacularly elevated tee you drive onto a fairway that doglegs left to a narrow green. A par here is always acceptable. Watch out for the out of bounds on the left.

Hole 16 - Valley - 398 yd
A picturesque hole, with the tilting fairway. Keep your approach to the left side if possible.
Hole 8 and 17
Par 5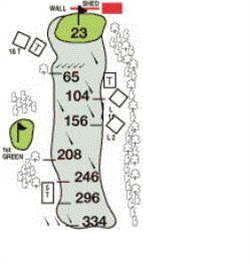 Hole 8 - Fitton's - 534 yd
A par 5 that runs parallel with the Snake Pass Road. Hit your tee shot down the right side to catch the fast lane. Be aware of the dead ground on the approach. Trust your yardage.

Hole 17 - Royal Oak - 538 yd
Like hole 8, this par 5 requires strategy to avoid trouble off the tee and on the approach. Drive to the right half of the fairway.
Hole 9 and 18
Par 3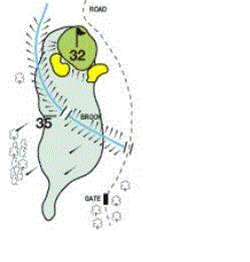 Hole 9 - The Brook - 179 yd
A demanding par 3 to finish the front 9. An accurate tee shot is required due to this green's protection in the form of bunkers, stream and the road at the back.

Hole 18 - Road Hole - 181 yd
A strong closing hole said to be the most demanding finishing hole in Derbyshire!! A really great par 3!
Hole 14
Par 4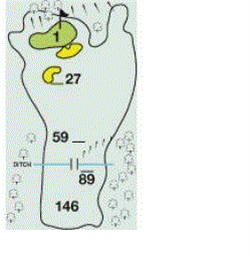 Hole 14 - Barn - 300 yd
A straight up par 4. This is a birdie chance with one of the flattest greens on the course but accuracy is critcal to avoide the two bunkers that protect the front of the green.
Hole 15
Par 4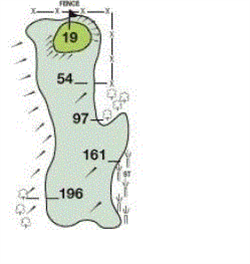 Hole 15 - Snake - 447yd
The toughest hole on the course. Uphill all the way to the raised green. A par here is more than acceptable. Most will accept a bogey here!